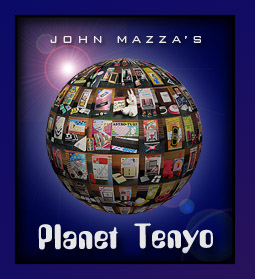 Categories of Tricks on Planet Tenyo (Click to Jump):

T-Numbered English Packaged Tenyo Magic Tricks
Tenyo started numbering their English packaged tricks in the late 1960′s or early 1970′s. They only did this for tricks packaged for sale outside of Japan.  Tricks packaged for sale in Japan have never had T-numbers assigned to them. The first T-numbered trick was T-1, which was a single red thimble. Tenyo releases approximately four T-numbered tricks each year, all released at the same time. Since T-1, Tenyo has released 100′s of magic tricks with the latest one being T-259 Money Shock.
For this website, I follow the naming, numbering and year as displayed on the official English Tenyo website on the Complete List of Products page. In the Tenyo Complete List of Products there are no tricks listed for T-numbers T-49 to T-60. There has been no real answer to date as to why this is. For sure some of the tricks were issued two different T-numbers. For instance, T-62 Fantastic also was issued in a box numbered T-53 and T-64 Melting Loop also came in a box numbered T-54.
The tricks before the gap are extremely rare and two are virtually impossible to find, T-44 Coin Coaster and T-45 Breakaway Fan. None of the Tenyo collectors that I know have either of these two. We do know they exist because they appeared in the 1972 Tenyo catalog. On the Tenyo website they list T-63 Disney World which is another mystery. I have only seen one small picture of the trick.
T-246 was the last English packaged T-numbered trick. Starting in 2011, Tenyo used the same Japanese package for both the Japanese language and English language releases. The tricks sent to American sellers have a cello bag attached to the back with full English instructions. The instructions also show the T-number for the trick.


Tenyo +1 Campaign Redemptions a.k.a. Specials
Starting in 1996, Tenyo began offering a free bonus trick for Japanese customers who sent in proof of purchases and postage. Tenyo calls the program the +1 Campaign and they have offered a redemption trick for every year since 1996. The tricks are made of paper/cardboard and pack flat for easy shipping. The tricks are very well made and the designs are very good. Most of the tricks are based on known mathematical and magical principles but they are presented in an imaginative way that you would expect from Tenyo.


Specialty Boxed Tenyo Magic
Before Tenyo started packaging magic tricks for the mass market, they sold tricks in Japan for professional magicians. Most of these tricks were not created by Tenyo and many were made elsewhere. There is an extensive amount of tricks that Tenyo sold in this manner. Tenyo still releases these types of tricks but they are only officially sold in Japan.


Japanese Only Tenyo Magic
Over the years there has also been many tricks sold by Tenyo exclusively for the Japanese market. These tricks were never released in English packaging so no official English language instructions exist. Many of these are very good and they would be good sellers if they were easily available to non-Japanese customers. Even those these tricks are only sold in Japan you can get some of them from SEO Magic USA.


Disney Tenyo Magic/Items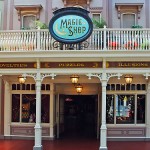 Tenyo has a long-standing license agreement with Disney to sell Disney themed items in Japan. Tenyo has made an abundance of Disney themed magic as well as non-magic items. Since the license is only for the Japanese market, these items are not officially sold outside of Japan. Inside the Tokyo Disneyland there is a store called the Magic Shop which is fully stocked with Tenyo Items. Tenyo makes many beautiful jigsaw puzzles with Disney themes. These jigsaw puzzles use Disney animated as well as live action characters. The jigsaw puzzles are a mainstay of Tenyo's business.


Non-Magic Tenyo Items
In the 1960′s, as Tenyo was expanding, they started making novelties. This tradition continues to this day. The novelties include clocks, banks, puzzles, pranks and toys.


Tenyo Magic Sets
Tenyo has made many different magic sets throughout the years. Almost all of the sets were for Japanese magicians because they were not released with English language instructions. Sears did sell two different magic sets that were intended for young magicians.