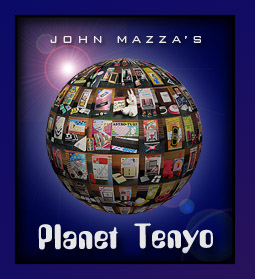 T-111 to T-120
< PREV TEN | INDEX | NEXT TEN >
1981
T-111
Supercubio
1982
T-112
Eclipse
Hiroshi Kondo
1982
T-113
Quick Silver
Keiji Takahashi
1982
T-114
Wonder Window
Shigeru Sugawara
1982
T-115
Ultra Slice
Hideo Kato
1984
T-116
Infinitum
Hideo Kato
1984
T-117
The Alpha Tunnel
Shigeru Sugawara
Description
See back of package.
Comments
This is a very good trick that I like to perform. When it is performed correctly it is a mind baffling effect.
My Rating [i]
Excellent (8)
Examinable
Yes for tunnel and ball and yes with plank but only after switch
Repeatability/Reset
Instant
Additional Items Needed
None
Prop Notes
You must be careful that you slide the plank in the proper way otherwise you can permanently ruin it.
Performance Notes
Before performing make sure that you have it right in your mind how to slide the plank in otherwise you will ruin the performance and possibly the plank.
Package Notes
This trick was released in the Vintage Blister on Card package in English and Japanese. A sealed vintage English package of this trick is very, very hard to find. I just got one, finally. This trick was also a bulk release with the tricks heat sealed in a plastic bag with photocopied instructions.
Availability [i]
1 every month and a half or so
Approximate Pricing [i]
$200 for a sealed English packaged version
$150 for a like new version in neatly opened package
$100 for a sealed bulk packaged version
$80 for a like new loose version
Links
Performance Video on YouTube
Top of this page
Additional Pictures [+]
1984
T-118
Sidetrack
Hiroshi Kondo
1985
T-119
Thunderstaff
Hiroshi Kondo
1985
T-120
Telestar
Hiroshi Kondo
T-111 to T-120
< PREV TEN | INDEX | NEXT TEN >