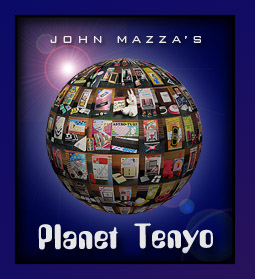 T-141 to T-150
< PREV TEN | INDEX | NEXT TEN >
1989
T-141
Mini-Zag
Shigeru Sugawara
Description
See the back of the package.
Comments
What I like so much about this trick is that it is so minimal. The prop itself is the size of a money clip but so much more deceptive.
Pros
•
Cons
•
My Rating [i]
Excellent (8)
Examinable
Prop no, but card yes.
Repeatability/Reset
Instant
Additional Items Needed
None
Prop Notes
With a little effort the card can be changed to any other poker sized card.
Performance Notes
Be very careful of your angles.
Package Notes
This trick was released in the Vintage Blister on Card package in English and Japanese.
Availability [i]
1 every 2 months or so.
Approximate Pricing [i]
$150 for a sealed English packaged version
$100 for a like new version in neatly opened package
$75 for a like new loose version.
Links
Performance Video on YouTube
Top of this page
Additional Pictures [+]
1989
T-142
Lancelot
Hiroshi Kondo
1989
T-143
Hyper Vision
Tomoyuki Shimomura
1989
T-144
Arcane
Hideo Kato
1990
T-145
Moon Spinner
Tomoyuki Shimomura
1990
T-146
Clean Cut
Hiroshi Kondo
1990
T-147
Silver Express
Keiji Takahashi
1990
T-148
Mira-Metal
Atsushi Fukano
1991
T-149
Dragon Altar
Hiroshi Kondo
1991
T-150
Coin of Dracula
Keiji Takahashi
T-141 to T-150
< PREV TEN | INDEX | NEXT TEN >