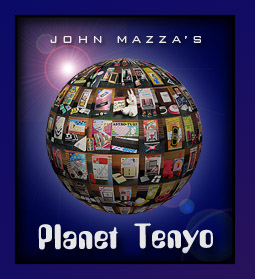 T-151 to T-160
< PREV TEN | INDEX | NEXT TEN >
1991
T-151
Wild Wallet
Tomoyuki Shimomura
1991
T-152
Nostradamus Clock
Tomoyuki Shimomura
1991
T-153
Diabolicus
Hiroshi Kondo 
1991
T-154
Mindscanner
Hideo Kato
1992
T-155
Crystal Cleaver
Toru Suzuki
1992
T-156
The Haunting
Tomoyuki Shimomura
Description
See the back of the package.
Comments
This is an iconic Tenyo that many people want for their collection. Unfortunately the trick is very hard to perform convincingly.
My Rating [i]
OK (4)
Examinable
The skeleton can be removed from the tube and handed out but the tube cannot be handed out. The skeleton is very fragile so it may be best not to hand it out for inspection.
Repeatability/Reset
It needs to be reset in private.
Additional Items Needed
Pencil
Prop Notes
The skeleton has a notch in the bottom so it can be secured to the tube. The skeleton is very fragile, make sure that you handle it carefully. The skeleton articulates at the ankles, hips, shoulders and head. There are no trade marks on the props.
Performance Notes
This is a trick that you will have to practice with to get the actions of the skeleton to look correct.
Package Notes
This trick was released in the Vintage Blister on Card package in English and Japanese.
Availability [i]
1 every 2 months or so.
Approximate Pricing [i]
$125 ↓ for a sealed English packaged version
$100 for a like new version in neatly opened package
$90 for a like new loose version.
Links
Performance Video on YouTube
Top of this page
Additional Pictures [+]
1992
T-157
Illusionarium
Toru Suzuki
1992
T-158
Menta-Marvel
Yutaka Sato
1993
T-159
Twister
Shigeru Sugawara
1993
T-160
Fantastica
Michiaki Kishimoto
T-151 to T-160
< PREV TEN | INDEX | NEXT TEN >