Tenyo's Most Prolific Inventors


JUMP TO: The Brain Behind It All | Tricks Sorted by Inventor | Article on The Tenyo Development Process



Tenyo has always been keen on crediting the inventors of their magic tricks and providing profiles about them to their customers. There have been many great inventors who have created magic tricks for Tenyo over the years but the five gentlemen profiled below have invented close to half of the T-Numbered Tenyo Magic Tricks. Additionally all five of these inventors have been awarded the Tenkai Prize. The Tenkai Prize was created in 1968 in honor of the great Japanese magician Tenkai (1889-1972). It is awarded to a Japanese national who is a remarkable creator of magic by a committee represented by very many Japanese Magic clubs. The Tenkai Prize can be awarded on a yearly basis but only if there is a worthy recipient, if there is not, then no Tenkai prize is awarded. The work of the recipient is published in a book which is released soon afterward. The Tenkai Prize is considered the highest magic award in Japan.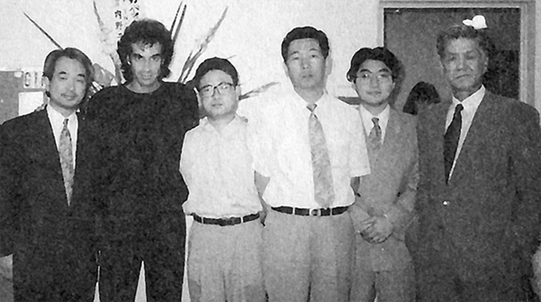 The Tenyo Creative Team pictured backstage with David Copperfield after a performance in Japan in 1992. Pictures Left to Right: Hiroshi Kondo, David Copperfield, Toru Suzuki, Shigeru Sugawara, Tomoyuki Shimomura and the then President of Tenyo Akira Yamada.
Shigeru Sugawara
Shigeru Sugawara joined Tenyo in the late 1967. Shigeru is multi-talented and has made mechanical drawings of the props to aid in the manufacturing process. He has created some of the most beloved Tenyo Magic. Among his creations are T-086 Ultra Tube, T-087 Squeeze Play, T-105 Tunnel of Darkness, T-129 Mirage and T-132 Ninja Experiment. His most recent contribution was the 2007 trick T-231 Fortune Donut. Shigeru was awarded the Tenkai prize in 1977.
Hiroshi Kondo
Hiroshi Kondo joined Tenyo in the 1960′s. For many years he has been the development division's director. He spent many years working with Hideo Kato to translate the Tarbell Course (7 volumes) to Japanese. He is an accomplished sleight of hand magician. Among his creations are T-069 Dynamic Coins, T-110 Zig Zag Cig, T-118 Side Track, T-127 Telesphere and T-153 Diabolicus. His most recent contribution was the 2003 trick T-210 Mobile Illusion. Hiroshi was awarded the Tenkai prize in 1987.
Tomoyuki Shimomura
Tomoyuki Shimomura joined Tenyo in 1988. Before he joined with Tenyo he was a talented performer. He is a very good technical writer and has written many of the instruction manuals. Among his creations are T-151 Wild Wallet, T-165 Crystal Pyramid, T-173 Eye of the Idol, T-181 Bird Watcher and T-201 Mystery China Box. His most recent contribution was the 2011 trick T-248 Psychic Money. Tomoyuki was awarded the Tenkai prize.
Toru Suzuki
Toru Suzuki joined Tenyo in the early 1990′s. Besides creating a wealth of T-Number Tricks, Toru has also been responsible for creating a majority of the yearly redemption program tricks for the +1 Campaign. He has also created other non-T-number items such as the Micro Bank. Among his creations are T-155 Crystal Cleaver, T-167 Future Clock, T-179 Trisector, T-222 Fortune Sticks and T-235 Magical Door. His most recent contribution was the 2011 trick T-250 The Third Eye. Toru has been awarded the Tenkai prize.
Hideo Kato
Hideo Kato started as a part-time magic demonstrator at a Tenyo Magic Corner while he was attending college. He joined Tenyo in the early 1960′s. At one point he left the company to pursue his own magic endeavors but later returned. He spent many years working with Hiroshi Kondo to translate the Tarbell Course (7 volumes) to Japanese. He has been a computer enthusiast right from the get go and enjoyed writing programs. Among his creations are T-090 Elevator Coins, T-96 Wandering Hole, T-116 Infinitum, T-126 Match Sticks and T-136 Geometrick. Hideo has been awarded the Tenkai prize in 1992.

The Brain Behind It All
Akira Yamada (recently passed on June 19, 2013)
Tenyo is known for having brilliant inventors, but it was Akira Yamada, nicknamed "The Brain" by Larry Jennings in 1969, who created the foundation for the creative geniuses to thrive. Akira Yamada, the youngest son of Tenyo's founder, Tenyo Shokyokusai, began working at Tenyo right after finishing college. In 1953 he took over operations of the Tenyo Magic Laboratory. He set out to establish many additional Magic Corners in department stores across Japan. The Magic Corners prospered, but Akira knew that magic alone would not be sufficient to support his employees. Tenyo soon added a line of joke novelties, and later puzzles, which were both very successful and grew to be a larger portion of the company.
But Magic was never neglected. Akira said that he would not hesitate to use profits from the other divisions for the magic division because magic is the roots of the company. Akira Yamada was committed to advancing the magical arts in Japan and made many huge strides to accomplish this goal. The translation of the 7 Volume Tarbell Course into Japanese was a huge task and key to advancing magic in Japan. Tenyo hosts the Tenyo Magic Festival which is a yearly magic extravaganza that showcases the many talented Japanese Magicians. 2012 marked the 54th occurrence of the festival. The careers of Shimada and Tenko were both launched at the Tenyo Magic Festival. Before they performed at this prestigious event, they were magic demonstrators at a Tenyo Magic Corner and before that they attended "Magic School" which were comprehensive classes for amateur magicians at Magic Corner locations. Along the way they were mentored by both Tenyo Shokyokusai and Akira Yamada. Tenyo also sponsored many lectures and in 1969, Akira Yamada was instrumental in bringing Dai Vernon to Japan to tour and lecture with Tenkai. Other prominent western magicians were invited in later years and they all came to the same conclusion, the art of magic was very advanced in Japan and the Japanese were very gracious hosts and very friendly. Akira was also keen on developing a relationship with the American magic establishment. Tenyo became a major advertiser in Genii Magazine and became good friends with the Larsen family who published Genii Magazine and founded the Magic Castle. Akira Yamada also made business relationships with Tony Spina of Tannen's in New York City and Fantasio in Florida.
Akira Yamada was a very stern man and demanded respect from his employees. In fact I have never seen him pictured smiling. Besides being very smart, Akira was very detailed as well. When he was in charge, he made final decisions on every aspect of the magic products offered for sale. Here is an excerpt from the profile of Akira Yamada from the 1979 Tenyo Catalog:
It is his firm conviction that magic products should be offered in complete form so that everyone can enjoy performing them. Therefore, his criteria for review is very strict. Even the staff who regards themselves as perfectionist are sometime astounded by his intense devotion as he checks whether the trick truly combines mystifying as well as the joy rendering elements, the durability and quality is outstanding, the design matches the current trend, the instructions are understandable, the packaging adequately conveys the special feature of the trick.
 Akira Yamada always wanted to have quality magic accessible to everyone and he and Tenyo has succeeded it fulfilling that goal. When people in the magic fraternity frowned on putting magic so easily into the hands of laymen and exposing magical secrets, Akira Yamada did not waver. He was sure that letting many people easily enjoy magic would actually advance magic not hinder it and in my opinion he was correct. The firm groundwork laid by Akira Yamada was instrumental in establishing Tenyo as the largest and most successful magic manufacturer in the world. In 1985 Tenyo's sales were approximately 40 Million Dollars and in 2005 it was approximately 110 Million Dollars. Tenyo continues a steady growth and the future looks very promising.
Tenyo Magic Tricks Sorted by Inventor
T-#
Effect
Inventor
Year

Shigeru Sugawara (35)

T-069
Dynamic Coins
Shigeru Sugawara
1975
T-071
Rope to Silk
Shigeru Sugawara
1975
T-076
Water Mystery
Shigeru Sugawara
1976
T-077
See Through Card
Shigeru Sugawara
1976
T-081
Space Walking Coin
Shigeru Sugawara
1976
T-084
Card Frame
Shigeru Sugawara
1977
T-085
Guillotine See Through
Shigeru Sugawara
1977
T-086
Ultra Tube
Shigeru Sugawara
1977
T-087
Squeeze Play
Shigeru Sugawara
1977
T-092
Pendant
Shigeru Sugawara
1978
T-093
Card Changer
Shigeru Sugawara
1978
T-099
Mystery of the High Hat
Shigeru Sugawara
1979
T-102
Lucifer's Lock
Shigeru Sugawara
1980
T-103
The Frame of Destruction
Shigeru Sugawara
1980
T-104
Black Hole
Shigeru Sugawara
1980
T-105
Tunnel of Darkness
Shigeru Sugawara
1980
T-114
Wonder Window
Shigeru Sugawara
1982
T-117
The Alpha Tunnel
Shigeru Sugawara
1984
T-122
Excalibur
Shigeru Sugawara
1985
T-128
Paradox
Shigeru Sugawara
1986
T-129
Mirage
Shigeru Sugawara
1987
T-132
The Ninja Experiment
Shigeru Sugawara
1987
T-135
Space Towers
Shigeru Sugawara
1988
T-141
Mini-Zag
Shigeru Sugawara
1989
T-159
Twister
Shigeru Sugawara
1993
T-163
Burglar Ball
Shigeru Sugawara
1994
T-171
Merlin's Coffer
Shigeru Sugawara
1995
T-189
Money Shredder
Shigeru Sugawara
1999
T-196
Money Cutter
Shigeru Sugawara
2000
T-205
Confined Cubes
Shigeru Sugawara
2002
T-208
Money Splash
Shigeru Sugawara
2003
T-221
Mystery Triangle
Shigeru Sugawara
2005
T-226
President's Cabinet
Shigeru Sugawara
2006
T-229
Ultimate Spoon Bend
Shigeru Sugawara
2007
T-231
Fortune Donut
Shigeru Sugawara
2007

Hiroshi Kondo (24)

T-069
Dynamic Coins
Hiroshi Kondo
1975
T-075
Rabbit in Wallet
Hiroshi Kondo
1976
T-091
Floating Lady
Hiroshi Kondo
1978
T-094
Nightmare in Color
Hiroshi Kondo
1978
T-098
The Sandwich Platter
Hiroshi Kondo
1979
T-109
The Midas Machine
Hiroshi Kondo
1981
T-110
Zig Zag Cig
Hiroshi Kondo
1981
T-112
Eclipse
Hiroshi Kondo
1982
T-118
Sidetrack
Hiroshi Kondo
1984
T-119
Thunderstaff
Hiroshi Kondo
1985
T-120
Telestar
Hiroshi Kondo
1985
T-123
Billscape
Hiroshi Kondo
1986
T-127
Telesphere
Hiroshi Kondo
1986
T-130
Tricky Business
Hiroshi Kondo
1987
T-133
Bare Bones
Hiroshi Kondo
1987
T-134
Vault-vision
Hiroshi Kondo
1988
T-142
Lancelot
Hiroshi Kondo
1989
T-146
Clean Cut
Hiroshi Kondo
1990
T-149
Dragon Altar
Hiroshi Kondo
1991
T-153
Diabolicus
Hiroshi Kondo
1991
T-164
Metal Matrimony
Hiroshi Kondo
1994
T-170
The Pillars of Thor
Hiroshi Kondo
1995
T-210
Mobile Illusion
Hiroshi Kondo
2003
T-256
4D Printer
Hiroshi Kondo
2013

Tomoyuki Shimomura (23)

T-143
Hyper Vision
Tomoyuki Shimomura
1989
T-145
Moon Spinner
Tomoyuki Shimomura
1990
T-151
Wild Wallet
Tomoyuki Shimomura
1991
T-152
Nostradamus Clock
Tomoyuki Shimomura
1991
T-156
The Haunting
Tomoyuki Shimomura
1992
T-165
Crystal Pyramid
Tomoyuki Shimomura
1994
T-168
Floral Fantasy
Tomoyuki Shimomura
1994
T-173
Eye of the Idol
Tomoyuki Shimomura
1995
T-175
The Unusual Suspects
Tomoyuki Shimomura
1996
T-177
Phantoma
Tomoyuki Shimomura
1996
T-181
Bird Watcher
Tomoyuki Shimomura
1997
T-184
Pop-Up Card
Tomoyuki Shimomura
1998
T-188
Lucky Rabbit
Tomoyuki Shimomura
1999
T-192
Leather Wild Wallet
Tomoyuki Shimomura
1999
T-195
Grand Derby Prediction
Tomoyuki Shimomura
1999
T-199
Dynamite Tube
Tomoyuki Shimomura
2000
T-201
Mystery China Box
Tomoyuki Shimomura
2001
T-207
Magician's Finger
Tomoyuki Shimomura
2002
T-209
Ghost Pet
Tomoyuki Shimomura
2003
T-215
Magician's Matchbox
Tomoyuki Shimomura
2004
T-230
Mystic Scope
Tomoyuki Shimomura
2007
T-246
Trap Box
Tomoyuki Shimomura
2010
T-248
Psychic Money
Tomoyuki Shimomura
2011

Toru Suzuki (24)

T-155
Crystal Cleaver
Toru Suzuki
1992
T-157
Illusionarium
Toru Suzuki
1992
T-161
Parabox
Toru Suzuki
1993
T-162
Credit Slasher
Toru Suzuki
1993
T-166
Oh No!
Toru Suzuki
1994
T-167
Future Clock
Toru Suzuki
1994
T-174
Clyde
Toru Suzuki
1994
T-176
Hanky Penetration
Toru Suzuki
1996
T-179
Trisector
Toru Suzuki
1996
T-182
Funnel Vision
Toru Suzuki
1997
T-185
Puzzling Queen
Toru Suzuki
1998
T-191
The Cutting Edge
Toru Suzuki
1999
T-193
Magic Painting
Toru Suzuki
1999
T-197
X-Ray File
Toru Suzuki
2000
T-203
Salt Cups
Toru Suzuki
2001
T-206
Sun & Moon Tubes
Toru Suzuki
2002
T-211
Fadeaway Case
Toru Suzuki
2003
T-222
Fortune Sticks
Toru Suzuki
2005
T-223
Origami Tube
Toru Suzuki
2005
T-224
Credit Surprise
Toru Suzuki
2006
T-235
Magical Door
Toru Suzuki
2008
T-244
Cloud Money
Toru Suzuki
2010
T-250
The Third Eye
Toru Suzuki
2011
T-257
Magical MRI
Toru Suzuki
2013

 

T-#
Effect
Inventor
Year

Hideo Kato (14)

T-038
Crystal Box
Hideo Kato
1969
T-064
Melting Loop
Hideo Kato
1972
T-090
Elevator Coin
Hideo Kato
1978
T-096
Wandering Hole
Hideo Kato
1979
T-097
Superstick
Hideo Kato
1979
T-115
Ultra Slice
Hideo Kato
1982
T-116
Infinitum
Hideo Kato
1984
T-121
The Golden Fleece
Hideo Kato
1985
T-124
Mirror Mate
Hideo Kato
1986
T-126
Match-Sticks
Hideo Kato
1986
T-131
The Moons of Jupiter
Hideo Kato
1987
T-136
Geometrick
Hideo Kato
1988
T-144
Arcane
Hideo Kato
1989
T-154
Mindscanner
Hideo Kato
1991

Lubor Fiedler (11)

T-161
Parabox
Lubor Fiedler
1993
T-172
Invisible Zone
Lubor Fiedler
1995
T-178
Krazy Keys
Lubor Fiedler
1996
T-183
Impossible Pen
Lubor Fiedler
1997
T-186
Antigravity Rock
Lubor Fiedler
1998
T-198
Blue Crystal
Lubor Fiedler
2000
T-243
4-D Surprise
Lubor Fiedler
2010
T-250
The Third Eye
Lubor Fiedler
2011
T-251
Flying Carpet
Lubor Fiedler
2011
T-255
Card Surgery
Lubor Fiedler
2012
T-258
Ghost Card
Lubor Fiedler
2013

Kenichi Komiya (7)

T-190
Bio Shock
Kenichi Komiya
1999
T-232
Balloon Illusion
Kenichi Komiya
2007
T-234
Newsworthy Tear
Kenichi Komiya
2008
T-236
Vanishing Point
Kenichi Komiya
2008
T-239
Millionaire's Dream
Kenichi Komiya
2009
T-249
Magic Pop-Up
Kenichi Komiya
2011
T-259
Money Shock
Kenichi Komiya
2013

Keiji Takahashi (6)

T-106
Ribbon Forever
Keiji Takahashi
1980
T-107
Crossroad
Keiji Takahashi
1981
T-108
Soft Coins
Keiji Takahashi
1981
T-113
Quick Silver
Keiji Takahashi
1982
T-147
Silver Express
Keiji Takahashi
1990
T-150
Coin of Dracula
Keiji Takahashi
1991

Atsushi Fukano (3)

T-137
Bolted!
Atsushi Fukano
1988
T-138
The Devil's Disk
Atsushi Fukano
1988
T-139
Knife of the Ninja
Atsushi Fukano
1989
T-148
Mira-Metal
Atsushi Fukano
1990
T-169
Zone Infinity
Atsushi Fukano
1994

Takayuki Kumazawa (3)

T-204
Escape King
Takayuki Kumazawa
2002
T-225
Mystic Blackboard
Takayuki Kumazawa
2006
T-241
Illusion Truck
Takayuki Kumazawa
2009
T-247
Tower of Dice
Takayuki Kumazawa
2011
T-252
Clear Surprise
Takayuki Kumazawa
2012

Angelo Carbone (3)

T-187
Mini-Morphosis
Angelo Carbone
1998
T-202
Prison Box
Angelo Carbone
2001
T-238
Floating Card
Angelo Carbone
2009

Dr. Hiroshi Sawa (3)

T-062
Fantastic
Dr. Hiroshi Sawa
1972
T-063
Disney World
Dr. Hiroshi Sawa
1972
T-220
Crash Dice
Dr. Hiroshi Sawa
2005

Takuya Yoshizawa (3)

T-072
Flash Dice
Takuya Yoshizawa
1976
T-073
Coin in Nest
Takuya Yoshizawa
1976
T-074
Super Phanto Block
Takuya Yoshizawa
1976

Takahisa Inaba (2)

T-240
Shrinking Pen
Takahisa Inaba
2009
T-254
Magic Memo Pad
Takahisa Inaba
2012

One Trick Wonders (23)

T-025
Silk Serenade
Pavel
T-061
I'm a Magician
Masao Atsukawa
1972
T-082
Spinning Plate On Rope
Takeshi Hori
1976
T-101
Hungarian Linking Ropes
Peter Gloviczki
1978
T-140
Superspike
Kento Wakabayashi
1989
T-158
Mentalmarvel
Yutaka Sato
1992
T-160
Fantastica
Michiaki Kishimoto
1993
T-168
Floral Fantasy
Yusaku Chida
1994
T-180
Enchanted Strings
Jeff Sheridan
1997
T-194
Mind Spinner
Michael Sibbernsen
1999
T-200
Undercover Cube
Petrick & Mia
2001
T-212
Ballerina Hank
Steve Dusheck
2003
T-213
Animation Card
Dan Harlan
2003
T-214
Ultimate Shocking Pen
Doug Edwards
2003
T-216
Mystery Poodle
Gee Mahabia
2004
T-218
The Rising Cards
Harry Devano
2004
T-219
Image Generator
So Sato
2004
T-227
New Koornwinder Kar
Dick Koornwinder
2006
T-228
4-Dimensional Trunk
J. C. Doty
2006
T-233
Animation Frame
Tomoaki Masuda
2008
T-237
Synchro Boxes
Bob Ostin
2008
T-242
China Surprise
Shinpei Ogawa
2009
T-245
Ghost Lamp
Scotty York
2010

No Inventor Designated

63 Tenyo T-Number Magic Tricks had No Inventor Designated

An Excerpt From Tannen's Magic Manuscript November/December 1989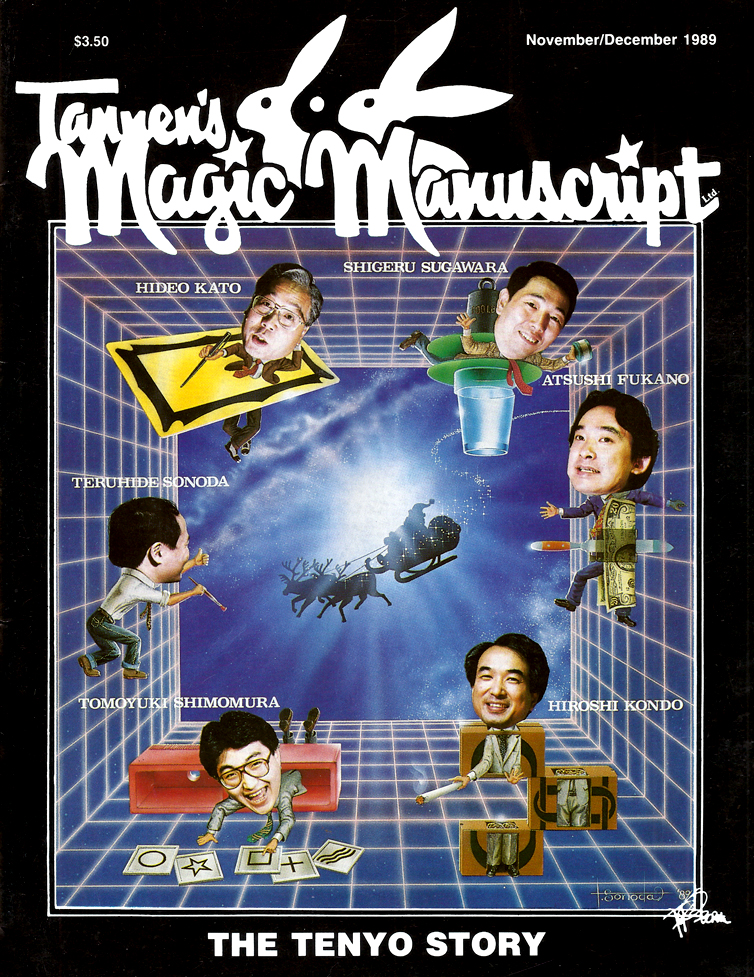 This wonderful illustration on the cover of the magazine was created by Teruhide Sonoda. Teruhide was an experienced magician and a demonstrator at a Tenyo Magic Corner like so many others in the organization. Around 1980 he became the primary illustrator for Tenyo instructions which are among the best illustrations in the contemporary magic field.

ONE YEAR FROM IDEA TO MERCHANDISING
The Tenyo Development Process
by Hiroshi Kondo
Of all our staff members in the development section of Tenyo, Shigeru Sugawara has been inventing for the longest time. Mounted in front of his desk there is a memo, which reads:
1. Anyone can easily perform it.
2. It can be repeated.
3. It uses articles found around us.
4. The props can withstand examination by the audience.
5. The props can be carried around in one's pockets.
These conditions have been derived from such early best-selling products as Dynamic Coins and Flash Dice. Of course, not all the magic merchandised by Tenyo satisfies all of these conditions. However, one thing that is certain is that every product has been developed with our sincere desire to fulfill all of the conditions.
The basic point is that the magic of Tenyo is user oriented. In the merchandising process, our ideas must pass through many filters as they are discussed and checked from many angles. Thus, the product that reach the customer's hands are the ones that have been successfully examined in terms of users' merits.
Because of this attitude, Tenyo products have gained a commercial identity. Furthermore, we believe that commercial tricks—especially those that satisfy the aforementioned conditions—are superior tricks. We strive to be conscious of consumer needs, not only for the sake of sales, but also because we are constantly trying to communicate with customers in order to integrate their ideas into the new products.
In the instructions for our domestic line, our product development section's telephone number is listed. Thus, we can respond directly to questions about performing, professional careers, appropriate magic for upcoming events, and so on. In many cases we get calls from beginners who have questions about specific products. Through these inquiries, our staff is able to understand what types of questions our customers will most frequently ask; which points are difficult for them to learn; which tricks they are most interested in performing.
Tenyo launches a new line of product every year, and this means that the development staff must come up with a certain number of ideas before an annual deadline. The following scenario describes this process.
In the two-month period of December and January each year, our development staff concentrates on the creation of new ideas. During this period they are under so much pressure that they can hardly sleep. Even if they do sleep, they may have surrealistic nightmare such as being enclosed in strange case with coins, or being tied to a paddle with ropes!
Many of our best ideas have sprung up to suddenly that they seem to have come into existence by accident. However, we think they are more than that. During all of the time spent without achieving tangible results, ideas are evolving in our brain, which then can suddenly springs up as full-blown creations.
The Zig Zag Cig I created in 1981 is a good example of this. Three years earlier, Sugawara and I came up with the idea of doing Harbin's Zig Zag Girl illusion as a close-up trick with a cigarette. Our initial method used a mirror.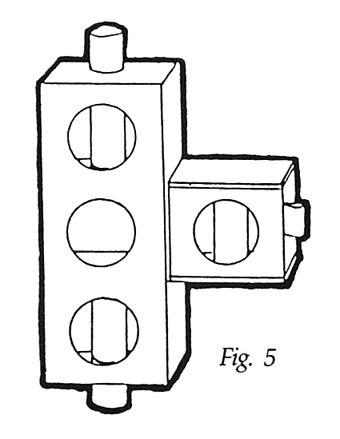 This idea was not marketed, due to functional problems. However, without the original challenge the subsequent "accidental" invention of the Zig Zag Cig would probably have never happened.
Our staff must come up with ideas within limited time period, so we cannot rely only upon chance. The creative methods differ from one person to another; everyone has his own way of thinking up new ideas.
The late master Tenkai Ishida once remarked, "It is raw material that suggests new ideas." Superior tricks often take advantage of the characteristics of raw materials, and we find that this approach is the fastest way to come up with new ideas.
"Raw material" does not necessarily refer to physical items. Geometrick by Hideo Kato, which made its debut last year, came about when he unexpectedly discovered that a square can be overlapped by a circle with very small distance between its perimeter and the circle's circumference.
He noticed this while doodling in his notebook. This is an example of ideas derived from abstract "raw material," in this case geometric figures.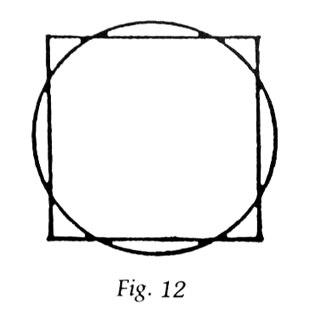 Despite their surface dissimilarities, many times old ideas are re-thought into new ones. For example, the apparatus for Geometrick was an extension of the previous year's The Moons of Jupiter. The successful release Infinitium started with Kato making modifications on an old cigarette case trick.
It is also essential for a trick to have a clear theme that continues to the end. Any inventor of magic has a creation that can be called his "original experience." The excitement received from it is often buried at the starting point of his work. For example, Roy Walton's Card Warp ( in turn based on Jeff Busby's Into The Fourth Dimension) is one of my favorite tricks. It is a superbly illusory effect, in which the back side of a card gradually disappears as the face of the card appears.
I was struck with the impact of this fresh effect. My own Midas Machine, Side Track and Tricky Business share one original principle, but these tricks always remind me of Card Warp. I was not consciously thinking of Card Warp when I created them, but it can't be denied that it was one of the factors in my subconscious mind.
To Sugawara, the basic concept of penetration seems to be an eternal theme. In his works, there are many fine tricks based on this theme, such as Squeeze Play, Alpha Tunnel, The Frame of Destruction, Wonder Window and Mirage.
Whenever he encounters some material, he seems to contemplate the possibility of a penetration effect with it. For example, attracting magnets are one of the oldest materials in magic. However, the fact that identical magnetic poles repel each other does not seem to be used very often. Working with this phenomenon, Sugawara found that another penetration effect could be created:
The development styles we have discussed can be summarized as follows:
1. Devote time to brainstorming and trying out ideas. Even if you end up with failure for the time being, by continuing with this process, you are getting closer to the birth of an "accidental" innovation.
2. "Consult" with the raw material. The material may wish to play the major role in the trick. If so, we should "ask" the material what its characteristics are, and how it differs from other materials.
3. Remake old ideas, creating new combinations and variations. Bear in mind that much of this remaking should stay private; it's only when you have managed to evolve it into something distinctly original that it should be made public.
4. Stick to one idea. Accumulate interesting themes, in terms of effects or materials. When pursuing a theme with which you feel an affinity, sooner or later you will hit a "jackpot" of an idea.
Let's return to our story of the Tenyo schedule. At the end of January, all members of the development staff come together with their original ideas devised in their various styles. Each idea is demonstrated, then thoroughly discussed. Defects are located; solutions are proposed; production details are considered.
For example, a new product for this year, Shimomura's ESP Scope, is an effect wherein a spectator can discern which ESP card was chosen by another spectator, by looking through a device that resembles opera glasses. In the original idea, when one looked into the glasses a mark on the chosen card could be seen, to differentiate it from the other cards. When we tried this with lay people, we found that they sometimes missed seeing the difference. So, the idea was reconsidered and modified to that anyone could immediately notice the difference.
After all of these discussions and examinations, the final meeting is held in February, and five or six items that have passed the tests are selected for the new product line. Every year the number of ideas that fail is larger than the number that pass. Those failed ideas would be enough to make a successful lecture or book of magic.
Once the new products are chosen, Sugawara begins to draw the plans. In March the plans are sent to various factories working with plastic, metal processing and printing.
The test products is completed in June. By that time, Sugawara, has a new nightmare–that the new item will not be ready in time for the annual Tenyo convention in July. This is because the test product is not the final product; it will have to be modified and improved again and again. In many cases it will be only a few days before the convention that the final products is at last in perfect shape.
While the product of the hardware is going on, the name of the product is determined and the instructions and package design are completed. Our instructions are illustrated by Sonoda, who understand the tricks very well.
Our chief designer Abe is in charge of package design. In many instances, scenes of performance of tricks are drawn with an airbrush by Sonoda.
 Then our designers, copywriters and illustrators work together to create a package which will immediately inform the prospective customer as to the nature of the trick inside.
For our export products, sample apparatus, demonstration video-tapes and simple English write-ups are sent to Gary Ouellet in Canada, who then writes the English instructions as well as coming up with the English trick titles. Materials for the preparation of the English catalog are sent to Alan Parsons in England, so that he can begin his work.
At the Tenyo convention in July the new products will be placed in the spotlight. At this time, the new items are sold to magic enthusiasts. Based on their reactions, some further modifications of the instructions may be made. Finally, in September, the product will receive nation-wide distribution, and in November the export versions will be ready for shipping.
After one year's struggle, we have completed our new product line. But this means another start for the coming season. Can we come up with innovative ideas yet again ? Nobody seems quite sure. Suddenly, our wellspring of ideas may dry up—then what ? We have only one definite answer: going back to our original point.
In other words, taking out the November issue of Magic Manuscript and reading through this article from beginning once again!