Wouldn't it be great to have 100 of your favorite toys in a 1 foot square box?
Well I figured out a way to do that. I collected a variety of miniature games and toys. Many of them were keychains which I removed the hardware from. Of course they had to be removed from their packaging otherwise the box would be 10 times the size. I then organized the toys in 4 categories with each getting it's own container. The 4 categories are Games, Toys, Figures, and Wheels. Both the outer toy box and the inner containers are clear plastic which gives you a glimpse of the goodies that are contained within.
When the manufacturers created these miniatures, extra care was taken to add any nuances that would enhance the toy experience. Very often the original artwork and packaging has been reproduced. Many of these miniatures are just as playable as their original counterparts. I have included a picture and inventory list of each of the 4 containers. I added a Playability rating where applicable. 5 stars is the highest playability rating.
This is one of my favorite collections and I'll be able to easily take it with me wherever I may go. Special thanks to my friend Betsy for getting me started with the keychain toys.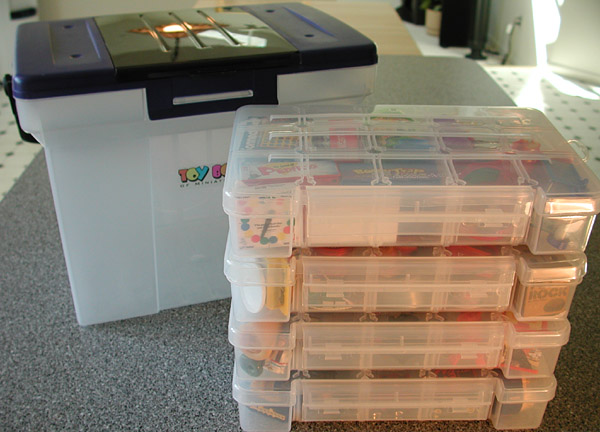 GAMES CONTAINER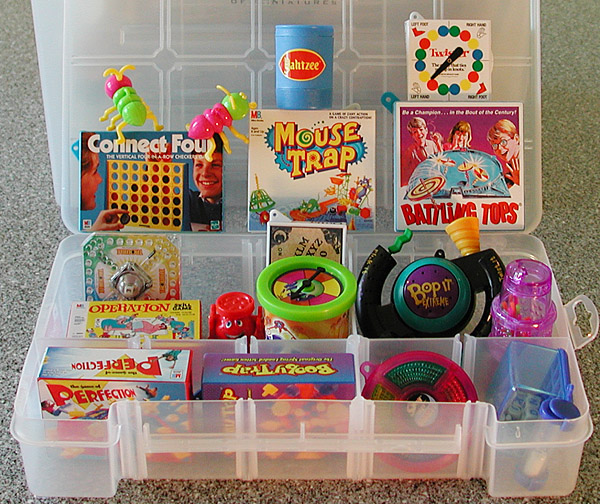 | | | | |
| --- | --- | --- | --- |
| Name | Original Manufacturer | Introduced | Playability |
| Cootie | Schaper | 1949 | **** |
| Connect Four | Milton Bradley | . | ***** |
| Yatzee | Lowe Company | 1956 | *** |
| Mouse Trap | Ideal | . | **** |
| Twister | Milton Bradley | 1966 | **** |
| Battling Tops | Ideal Toys | Late 1960's | ** |
| Trouble | Kohner | . | * |
| Operation | Milton Bradley | 1965 | ***** |
| Don't Spill the Beans | Schaper | . | ** |
| Ouija Board | Parker Brothers | 1966 | * |
| Tip It | Ideal | 1965 | **** |
| Bop It | Hasbro | . | **** |
| Ker-Plunk! | Ideal | 1967 | **** |
| Perfection | Reed Toys | Early 1970's | ***** |
| Booby Trap | Parker Brothers | 1965 | **** |
| Simon | Milton Bradley | 1978 | ***** |
| Boggle | Parker Brothers | . | ***** |
| | | | |
| Added Since Picture | | | |
| Don't Break the Ice | Schaper | . | *** |
| Mystery Date | Milton Bradley | 1965 | ** |
| Scrabble | Selchow & Righter | 1948 | * |
TOYS CONTAINER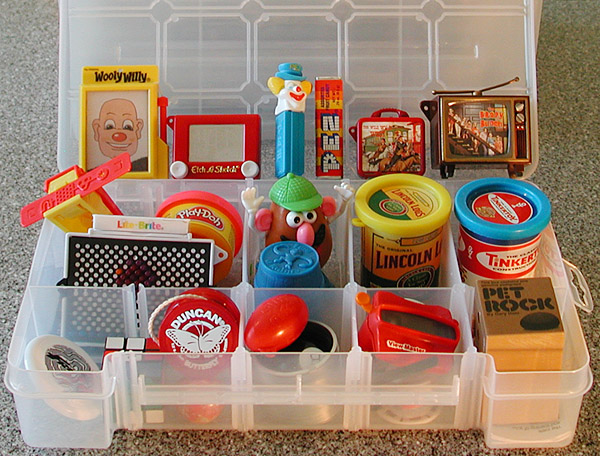 | | | | |
| --- | --- | --- | --- |
| Name | Manufacturer/Creator | Introduced | Playability |
| Wooly Willy | Smethport Specialty | 1955 | *** |
| Etch-A-Sketch | Ohio Arts | 1960 | **** |
| Pez Dispenser | PEZ Candy Inc. | 1955 | *** |
| Gunsmoke Lunch Box | — | 1955 | — |
| Brady Bunch TV | — | 1968 | — |
| Lite-Brite | Milton Bradley | 1967 | **** |
| Play Dough Fun Factory | Rainbow Crafts | 1960 | **** |
| Mr. Potato Head | Hasbro | 1952 | ***** |
| Barrel of Monkeys | Lakeside Toys | 1966 | ***** |
| Lincoln Logs | John Lloyd Wright | 1924 | **** |
| Tinker Toys | Charles H. Pajeau | 1914 | **** |
| Frisbee | Wham-O | 1958 | *** |
| Rubik's Cube | Ideal Toys | 1980 | ***** |
| Butterfly Yo-Yo | Duncan | 1958 | **** |
| Superball | Wham-O | 1965 | ***** |
| Silly Putty | Peter Hodgson | 1950 | **** |
| Magic Eight Ball | . | . | *** |
| Slinky | Richard James | 1945 | **** |
| View Master | Sawyer's, Inc | 1939 | **** |
| Pet Rock | Gary Dahl | 1975 | ** |
| | | | |
| Not Visible | | | |
| Whizzer Top | Mattel | . | *** |
FIGURES CONTAINER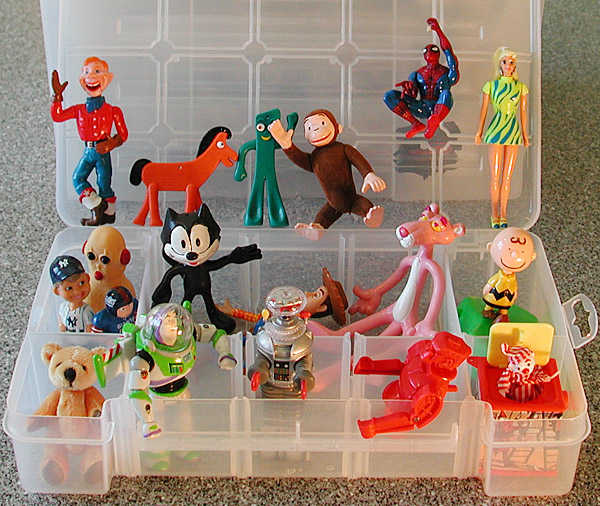 | | | | |
| --- | --- | --- | --- |
| Name | Manufacturer/Creator | Introduced | Action |
| Howdy Doody | "Buffalo Bob" Smith | 1947 | mouth moves via lever, head/arms/waist move |
| Gumby and Pokey | Art Clokey | 1955 | — |
| Curious George | Hans and Margret Rey | 1941 | head/arms/legs move |
| Spiderman | Stan Lee, Marvel Comics | 1962 | retractable spiderweb |
| Barbie | Mattel | 1959 | arms move |
| Martian Popping Thing AKA Obie | — | 1950s | eyes/ears/mouth pop |
| Yankee Bobble Head | MLB | 1960 | head bobbles |
| Midget Giant | — | 1980s | — |
| Felix the Cat | Pat Sullivan | 1919 | bendable, posable |
| Woody | Pixar | 1995 | "comes to life" like pop up puppet, hat is removable |
| Pink Panther | Friz Freleng | 1964 | bendable, posable |
| Charlie Brown | Charles Schultz | 1950 | aminmatied, moves forward, misses fottball and falls |
| Teddy Bear | Steiff | 1902 | arms/legs move |
| Buzz Lightyear | Pixar | 1995 | wings pop-out, arms/legs/waist move, laser beam in arm |
| B9 Robot from Lost in Space | Irwin Allen | 1965 | three sayings, arms entend, contract, bend |
| Rock'em Sock'em Robot | Marx Toys | 1967 | arms move via levers, head pops up |
| Jack in the Box | — | . | plays music, pops out |
| | | | |
| Added Since Picture | | | |
| GI Joe Action Marine | Hasbro | 1964 | fully articulate |
| Cabbage Patch Kid | Coleco | 1983 | squeezeable |
| Alice in Wonderland | Madame Alexander | . | eyes close when horiz., arms and legs move |
WHEELS CONTAINER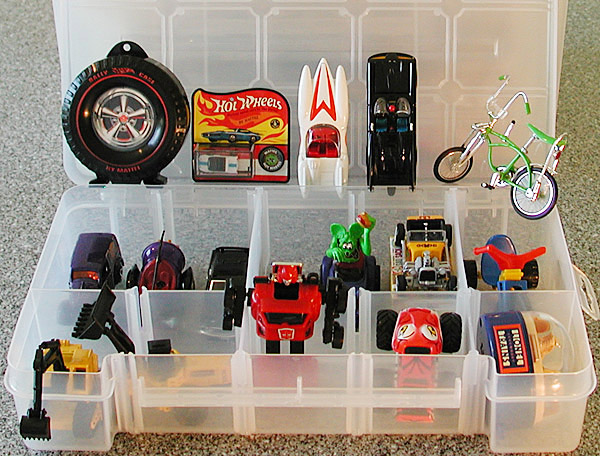 | | | |
| --- | --- | --- |
| Vehicle | Manufacturer/Creator | Introduced |
| Hot Wheels Rally Case | Mattel | . |
| Hot Wheels Car | Mattel | 1968 |
| Speed Racer Mach 5 | Johnny Lighting | 1967 |
| Batmobile | Johnny Lighting | . |
| Stingray Bike | Schwinn | 1963 |
| Modern Hotwheels Toy Van | Mattel | . |
| Dick Dastardly's Mean Machine | Johnny Lighting | 1968 |
| Boss Mustang | Ertl | . |
| Rat Fink | Ed "Big Daddy" Roth | early 1960's |
| Hot Rod Model | Aurora | . |
| Big Wheel | Marx Toys | 1969 |
| Tonka Trucks | . | late 1940's |
| Transformer | Hasbro | 1984 |
| Prowler Monster Truck | . | . |
| Lionel Trains | Lionel | 1901 |
| | | |
| Added Since Picture | | |
| The Munster's Coach | Johnny Lighting | . |