Count the F's

Read the paragraph below and
count how many times "F" appears.
FINISHED FILES ARE THE
RESULT OF YEARS OF SCIENTIFIC
STUDY COMBINED WITH THE
EXPERIENCE OF MANY YEARS
How many F's did you find?
If you found less than six,
it is probably because you didn't
count the f's in the word "of."
Your brain skipped over them.
You should have found six.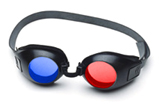 Online 3D
If you have 3D glasses get them out, put them on and then
click here for an online 3D image
click here for another online 3D image