On April 11, 2016 Elisa did her last show without any forewarning. On July 14, 2106 Spreecast "went away" taking with it the archive of close to 300 shows.
About Kermit and Friends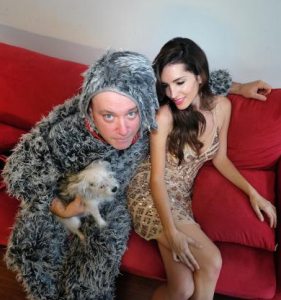 Kermit and Friends is an interactive internet entertainment show hosted by Elisa Jordana and Benjy Bronk. The show gets it's name from Kermit, Elisa's adorable dog.
I guarantee that you have never seen anything like this show. It is bizarre, whimsical, fun, funny and more. Both hosts have peculiar senses of humor and the guests are the most unique real human beings on the planet that are more interesting than any character ever written by any author. If you like drama, there is plenty of that too. The best part of Kermit and Friends is that you can be part of the show. You can be a chatter commenting live during the show or turn your camera on and join in and meet Elisa or Benjy. If you give it a try for a full week then you will most likely become addicted like the many dedicated fans of the show.
The Kermit and Friends interactive internet show airs live on the Spreecast.com site on Mondays and Thursdays from 7 pm EST until at least 9 pm. To join in the fun click on the following link which will bring you to the Kermit and Friends Home Page on Spreecast.com. Here's what you will see:
Sign-Up click on this button to join Spreecast. There is no cost and you can do it via social media accounts (Facebook, Twitter, Linkedin) or email. Next create your user name and password. That's it. Now that you are a member of Spreecast you can RSVP to shows, chat during the show or even enable your camera and be a guest. A lot of the guests and chatters on Kermit and Friends have funny and interesting identities. Chatting is a blast. Or if you want, you can be a voyeur and just watch.
Up Next will show and icon for the next scheduled live show, the title of the show, the amount of RSVPs and the start time.  If you do not want to join Spreecast then you can click on that show icon during the scheduled time to watch the show live. You will not be able to chat or be on camera though.
RSVP once you become a member of Spreecast you can RSVP to shows and get a reminder before they start.
Created you will see the hundreds of great shows already recorded and ready to be watched via PayPerView. There will soon be an option to get access to all the recorded shows for one low monthly price.
KAF World Photo Galleries
Popular KAF World Blogs to Follow

Elisa's Journal is written by Elisa Jordana. It is a blog covering her daily activities and thoughts. It is very interesting reading and very therapeutic for Elisa as well. Read this to gain some inside information about an upcoming guest or show or to get Elisa's perspective of something that happened on the show or in social media.

Gaia Paia Blog is written by Elisa's "Troll Hunter" as well as her Public Relations Representative. Very strong opinions are served up in strong defense of anything or anyone attacking Elisa.

The Pastafagioli Papers is written by a long time fan of the Kermit and Friends show Jimmy Pastafagioli. Jimmy often writes about his perspective on past events as well as current goings on. He is not afraid to go after the biggest trolls in defense of Elisa.
Elisa's Social Media Feeds




What's HOT in KAF World
ISME's Two Hundredth Episode Rap
John Asks Claire if he like Cawks
Kleenex on Twitter and Periscope
KAF Town and Mayor McKaf